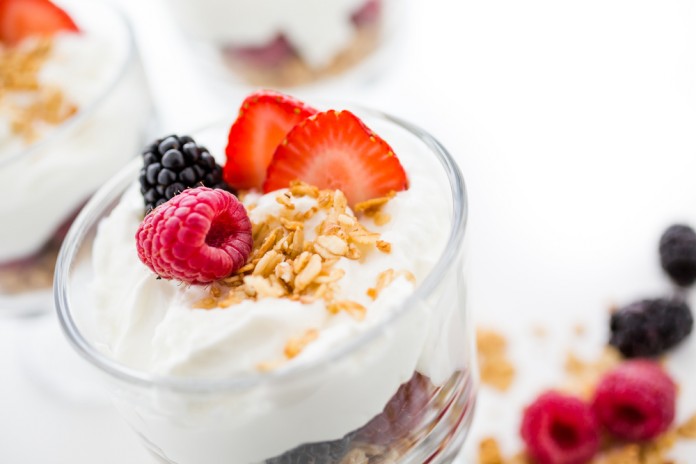 Protein Breakfast Ideas
Ditch the cereal and get your day going with a high protein breakfast. By eating protein earlier in the day, you will be giving your body much needed energy and fuel to help repair muscle  from your previous workout. A high protein breakfast has also been shown to keep you feeling fuller longer. (A good rule to follow is to get at least 20 grams of protein per meal.)

Whole grain toast with peanut butter
Peanut butter is loaded with healthy fats and protein and is an excellent way to start your day. Get creative with various nut butters such as almond butter, hazelnut butter or even sunflower seed butter.
Greek yogurt with almonds and sunflower seeds
I recommend starting with plain yogurt to keep the sugar content down and sweeten with fresh fruit or honey.
Cottage cheese with fruit and granola
Cottage cheese often gets overlooked as a breakfast item, but low-fat or fat-free cottage cheese is a great source of protein and calcium. Add some fresh fruit and granola for a nice balanced breakfast.
Creamy Berry Quinoa Parfait
Combine 1/3 cup cooked quinoa, 3/4 cup plain low-fat Greek yogurt, 1/4 tsp pure vanilla extract and 1/8 teaspoon of cinnamon. Using 1/4 cup blueberries and 9 walnuts, create layers of the quinoa/yogurt mixture, blueberries and nuts in a glass.
calories: 328; protein: 25 grams.
Chia Crunch
Combine 1/3 cup of cooked quinoa with 3/4 cup low-fat Greek yogurt and 2 teaspoons of chia seeds.
calories: 226; protein: 22 grams.
Almond Bran Crunch
Combine 3/4 cup bran cereal with 3/4 cup plain low-fat Greek yogurt and 10 almonds. For added sweetness you can top with fresh blueberries or a banana.
calories 303; protein: 24 grams.
Flaxseed and Yogurt Breakfast
Mix together 3/4 cup plain low-fat Greek yogurt with 7 chopped walnut halves and 2 tablespoons of ground flaxseed.
Topping with fresh or dried fruit will adds fiber in addition to vitamins and minerals.
calories: 278; protein: 24 grams.
Healthy High Protein Breakfast Burrito Recipe
Like this post? Share it with your friends!
[mashshare]
Source: Live Strong
Source: Stack