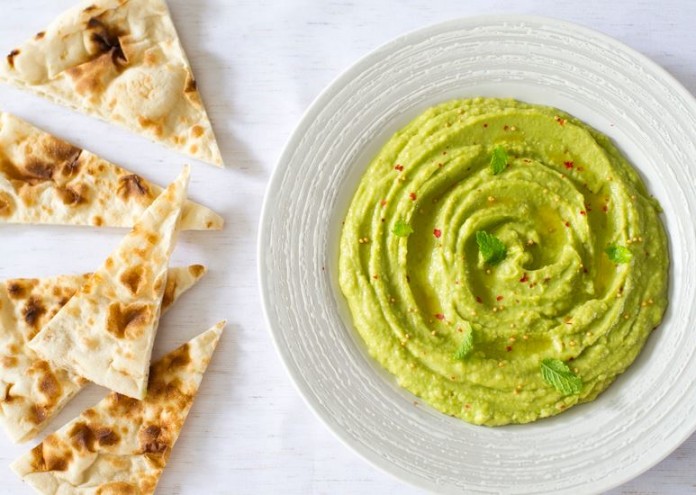 Recipe For Avocado Cilantro Hummus
 Need a new idea for a very healthy snack? This dip combines three of my favorite things. Avocado, hummus, and cilantro. I was so excited to find this recipe because all three indigence have a ton of health benefits. Avocado is rich in fiber and can reduce your cholesterol and triglycerides Hummus is high in protein and antioxidants. And cilantro, a deep-green leave, possess good amounts of antioxidants, essential oils, vitamins, and dietary fiber. A win all the way around. I found this recipe on CleanandDelicious.com and thought I would share it with you.
PREP TIME: 10 MINUTES TOTAL TIME: 10 MINUTES
Ingredients:
1 15oz-can Garbanzo beans, drained and rinsed
1 large avocado
1 clove garlic
2 tbsp. cilantro
2 tbsp. lemon juice
2 tbsp. water
1 tbsp. tahini (if you don't have tahini sub in evoo)
¼ tsp. kosher salt
Directions:
Combine everything in a food processor and blend until well incorporated. You should end up with a thick, creamy hummus.
If it's too thick, add a little more water or extra virgin olive oil. Enjoy.
Makes 1-½ cups.
Nutrients per 2 tablespoons: Calories: 65; Total Fat: 3g; Saturated Fat: 0.5g; Cholesterol: 0mg; Carbohydrate: 8.4g; Dietary Fiber: 2.6g; Sugars: 0.1g; Protein: 2g
Original article here
image source
[ulp id="I1Mr4xcccmiFLCrG"]