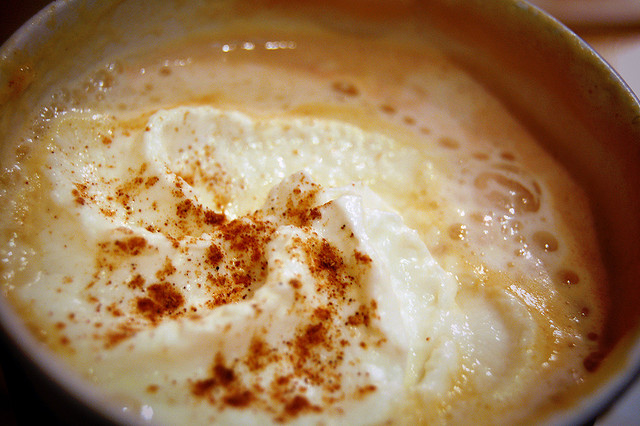 Cut Down Sugar and Calories With This Starbucks Pumpkin Spice Latte Hack
It's that time of year again and pumpkin flavored anything is everywhere! Lucky for me, I love pumpkin. If you've noticed, Starbucks has their Pumpkin Spice Latte out, and it is awesome, the only thing not so awesome is that it is LOADED with sugar and calories. 200 calories and 37 grams of sugar to be exact (the sugary syrup is the culprit). No worries though, here is the perfect alternative.
INGREDIENTS
1/2 cup unsweetened vanilla almond milk
3 tablespoons pumpkin puree
1 teaspoon pumpkin pie spice
1/2 teaspoon vanilla
2-3 drops of liquid stevia (or sweetener of choice)
8 ounces brewed coffee (or 1-2 shots of espresso)
Sprinkle of cinnamon
DIRECTIONS
In a cup or saucepan, mix together almond milk and pumpkin. Cook on medium heat on the stove top or microwave for 30-45 seconds.
 Remove from heat, stir in vanilla, spices, and sweetener, place in a cup and use a frother to foam the milk. You can also use a blender — just process for 30 seconds or until foamy.