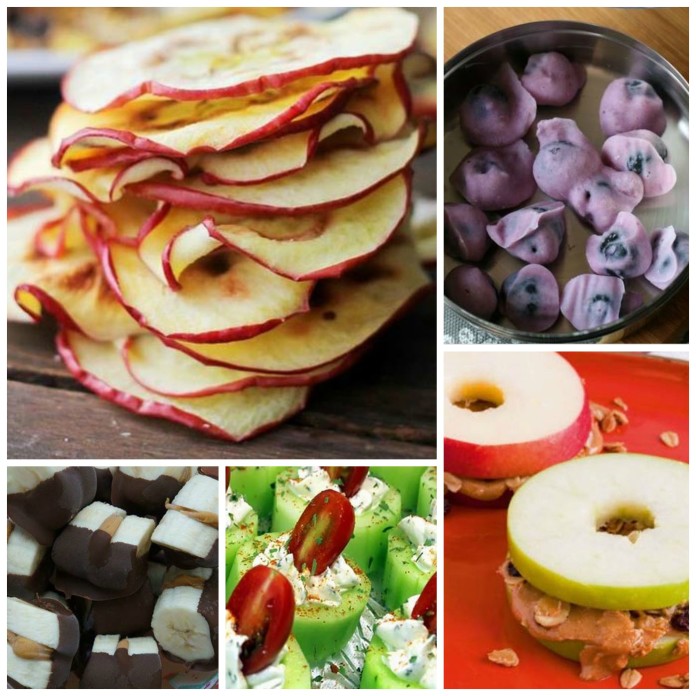 Healthy Snack Choices
So you want to know what healthy snacks people are eating right? Here's a list of my favorite mouth watering snacks that you can treat yourself too and not feel guilty. You don't have to go hungry between meals. Just make good choices!
1.Banana, Chocolate, and Almond Butter Bites
picture source
2.Baked Zucchini Chips
photo source
3.Peanut Butter and Apple 
photo source
4.Vietnamese Spring Rolls
photo source
5.Avocado Toast
photo source
Instead of butter, spread avocado on a piece of toast and add an egg.
6.Cauliflower Crust Mini Pizzas
photo source
7.Ants on a Log
photo source
8.Low-fat tortilla with Italian smoked turkey
photo source
(Low-fat tortilla with Italian smoked turkey, flavored Rondele cheese spread, basil, cucumber, and red bell pepper. Rolled up and cut into slices.)
9.Healthy trail mix
photo source
Why buy pre-made trail mix why you mix up your own.
10.Prosciutto on Garlic Toast Crackers
photo source
11.Bananas and blueberries
image source
12.Peanut Butter Honey Yogurt Dip
image source
 13.Pico de Gallo
A great dip to accompany almost any meal, and makes a great snack.
14.Spicy Sriracha Popcorn
Image source
Original article posted here
[ulp id="I1Mr4xcccmiFLCrG"]