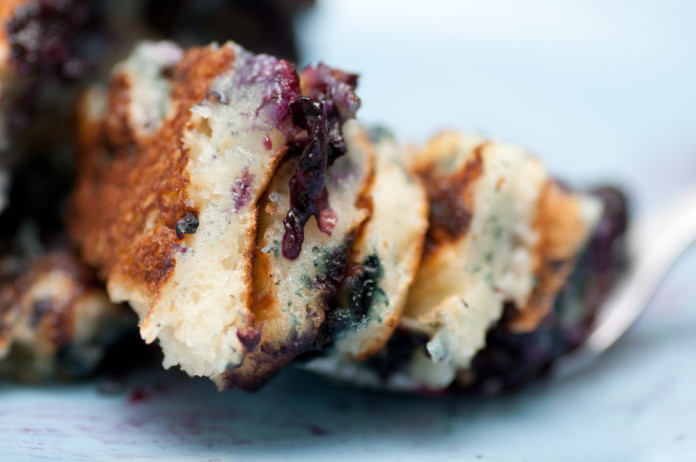 Blueberry Vanilla Protein Pancakes
    Carbohydrates are a great source of energy and help replenish the energy lost during those long workouts, but what about adding some protein? By adding only 2 scoops of protein powder to your pancake mix, you can add a whopping 26 grams of protein to your meal, making this an excellent choice for breakfast.
With a prep time of only 15 minutes, this won't cut into your schedule too much. (You can also make some extra and freeze them for another day.)
Makes: 12-14 pancakes
Ingredients
Pancakes
1 1/4 cup whole wheat pastry flour
2 scoops Whey Vanilla Protein Powder
1 tablespoon baking powder
1/2 teaspoon kosher salt
1 1/3 cups milk of choice
2 tablespoons plain non fat Greek yogurt
1 egg white
2 teaspoons vanilla extract
1/2 pint fresh blueberries
Blueberry Sauce
1/2 pint fresh blueberries
1 tablespoon agave nectar
1/2 teaspoon vanilla extract
1 teaspoon cornstarch mixed until smooth with 1 teaspoon of cold water
Instructions
Pancakes
In a large bowl whisk together the flour, protein powder, baking powder, and salt.
In a smaller bowl whisk together the milk, Greek yogurt, egg white, and vanilla extract.
Add the wet ingredients to the dry and whisk together until smooth.
Gently fold the blueberries into the pancake batter with a rubber spatula.
Add the batter to a hot prepared non stick griddle or skillet.
Cook the pancakes on the first side until small bubbles form on top, then flip over and cook on the other side for a another couple minutes.
Blueberry Sauce
In a small saucepan over medium heat add the blueberries and agave nectar.
Cook the blueberries until they start to pop and release their juices, about 3-5 minutes.
Add the cornstarch/water mixture to the blueberries and stir together until incorporated.
Continue to cook the blueberry sauce for 2-3 more minutes or until the sauce thickens.
Once the sauce has thickened remove from the heat and stir in the vanilla extract.
Top the pancakes with the warm blueberry sauce.
Recipe from Recipe Runner